«&laquo&nbspBACK
THESE ARE THE 25 BEST BEDROOM DECOR TIPS FOR AN IMPECCABLY-STYLED ROOM
Whether your style skews boho or modern, we have designer tips and tricks to quickly elevate your bedroom without tearing down walls or racking up a high bill. These pieces and ideas cover everything you need to create your most comfortable, luxurious and personal bedroom ever.
1. DRAMATIC CURTAINS
A room is never completely finished until you address your window dressing situation. In the guest bedroom of a Paris apartment, the custom forged-iron bed frame is finished in gold leaf and stands out against the curtains made from a Pierre Frey chintz and Dedar fabric.
Derby Window Panels, from $74.99 for 2, DKNY
2. SWAP IN A DAYBED
Create the illusion of more space in a tiny guest room by opting for a daybed instead of a large bed frame. For more ideas, browse our favorite daybeds.
Louis Daybed, $1,099, Ballard Designs
3. A STATEMENT ART PIECE
Less can be more when designing around a statement art piece. In this minimal apartment, the neon wall sculpture is by Glenn Ligon and stands out beautifully against walls sheathed in a Marmorino finish.
Where Love Lives Neon Sign, $179, Urban Outfitters
4. MONOCHROMATIC LOOK
Sticking to one light color is an easy way to make a small bedroom feel less claustrophobic. In a young couple's monochromatic Swedish home, the master bedroom blends white and cool brown for a color scheme that makes the petite space feel more open and airy. The bed is by Hästens, and the lamp and stool are vintage.
Crane Nickel Floor Lamp, $149, CB2
5. CREATIVE HEADBOARDS
If you grow tired of things easily, using curtains as a creative headboard lets you update your room to fit every season and mood. In the master bedroom of a palatial Florence estate, the bed coronet and curtains are of an Ian Mankin stripe.
Setting Sun Curtain Panel, $95, ABC Carpet & Home
6. LAYERED BEDDING
Layering is key to a beautiful bed. It gives your space an instantly glamorous upgrade, plus you'll be beyond cozy in the wintertime. The master bedroom of a Gramercy Park apartment seen here features a luxe bed dressed in custom Frette linens.
Noto Ricamo Sheet Set, from $129.99, Frette At Home
7. LIGHTING OPTIONS
There's nothing more frustrating than a bedroom with just one overhead light. Give yourself options by adding a dimmer or opt for several fixtures throughout the room, like Christian Siriano's Connecticut country home. Who are we to say no to a bedroom chandelier?
Maxwell 3-Light Crystal Chandelier, $119.99, House of Hampton
8. ARTWORK YOU ADORE
There's no need to go overboard with the art in your bedroom: pick one piece that speaks to you and also makes a statement. This charming bedroom in a Uruguayan country house prominently features a painting by Eva Claessens.
Browse our gallery of the best places to buy art online and then get ideas on how to display your finds.
9. A COMFORTING COLOR PALETTE
You want everything in your bedroom to exude comfort, and the color palette is no exception. Whether you're a fan of warm or cool shades, pick colors that you naturally gravitate toward and give you a sense of calm. This home in Mexico opted for organic colors like ocean blue and deep brown. The statement wall is painted with Patagonia by Comex and the Eames chair and ottoman are by Herman Miller.
Eames Lounge Chair and Ottoman, from $5,295, Herman Miller
10. PHOTOGRAPHS...BUT NOT OF FAMILY
You should have as many family photos as you wish in other rooms in the house, but it's best to keep the bedroom's artwork less emotionally loaded. Elegant photographs add some character to your space without reminding you of specific people while you're trying to fall asleep. All of the photographs pictured in this Upper West Side bedroom are by Marsha Lebedev Bernstein.
Modern White Frames, $146 for 5, Pottery Barn
11. A TOUCH OF DRAMA
Even the brightest, most cheerful bedrooms need an element of dark, sexyglamour. Balance is key. Stick with a few dramatic pieces, like the bedroom in this Windsor Terrace home that features a bed frame upholstered in a Lake August fabric and is topped with a vintage Moroccan blanket.
Moroccan Berber Striped Blanket, $645, Chairish
12. A VARIETY OF TEXTURES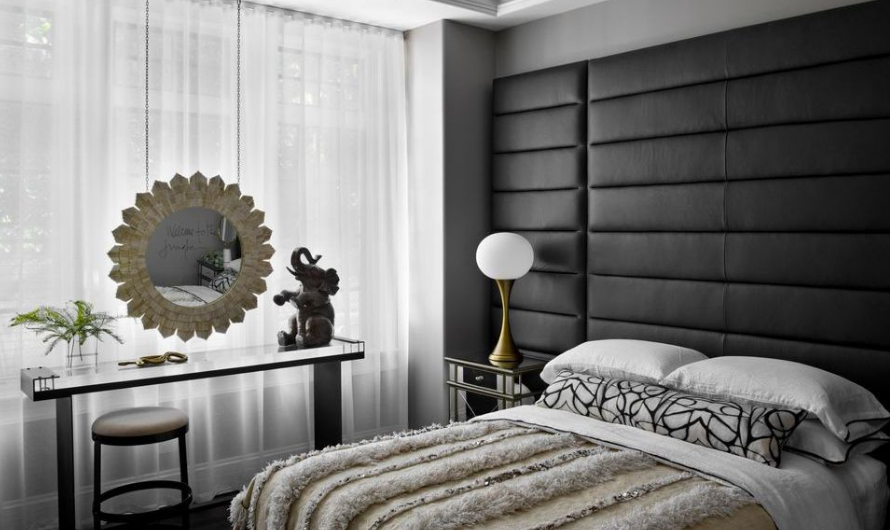 Of course your bedding is plush as could be, but don't forget texture throughout the rest of your room. The guest bedroom of a glamorous Illinois home plays with texture by incorporating a black channel-quilted leather headboard and a Moroccan wedding blanket covered in sequins.
Abid Upholstered Platform Bed, $769.99, Wayfair
13. FLORAL ARRANGEMENTS
Whether they're on your nightstand, vanity, or windowsill, flower arrangements are a lovely thing to wake up to. Especially in the winter when you need a dose of greenery. Take inspiration from the fresh flowers that flank the bed of this West Village master bedroom.
The Minimalist Bouquet, $78, Farmgirl Flowers
14. CREATIVE STORAGE
The end of your bed is a perfect and unsuspecting spot to fit in more storage. In the bedroom of a Los Angeles country house, a vintage clothing trunk steals the decor spotlight while also giving you much-needed space.
Tanja Trunk, $998, Anthropologie
15. A DESIGNATED WORK AREA
Although most designers would advise against working in your bedroom, that's not always a reality. Designate a specific work area in your room, preferably as far from your bed as possible, so that you don't feel guilty for finishing up paperwork.
Penelope Mini Desk, $399, West Elm
16. A GOOD MIRROR
Mirrors are a pretty magical design element. They make any space feel larger, brighter, and more unique, whether you decide to hang them or simply prop one up against the wall. Learn from this Hamptons summer home, where a rustic-style mirror perfectly complements the antique bed frame and Swedish chest.
Vintage Green Mirror, $100, Chairish
17. A STATEMENT BED FRAME
Give your personal space some glamour with a statement bed frame. From four-posts to platforms, the options for a chic piece of furniture are endless. In the master bedroom of a Connecticut weekend home, this bed frame is by Hickory Chair and dressed in Restoration Hardware linens.
Stonewashed Belgian Linen Bedding Collection, from $59, Restoration Hardware
18. A COMFORTABLE RUG
Nothing ruins a happy morning (or makes a gloomy one worse) than stepping out of the bed onto a cold, hard floor. Do yourself a favor and make sure your feet are greeted with a beautiful cushy rug. Opt for something soft, stylish, and timeless, and you'll be destined to keep it (and love it!) forever.
Browse some our favorite rugs and get rug styling tips for any room.
Equinox Grey Ombre Rug, $599, CB2
19. A THEME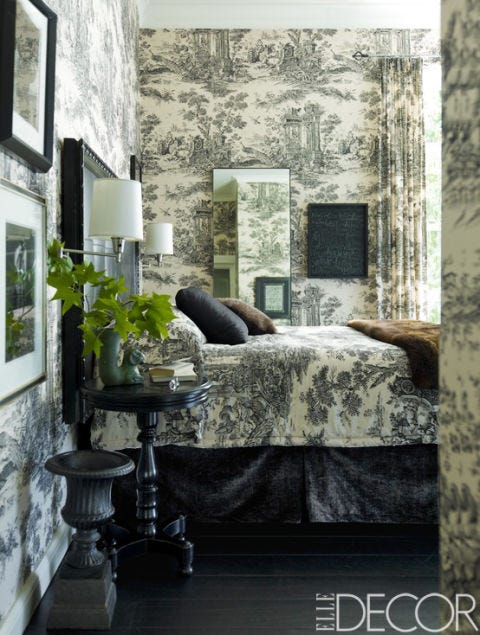 Simon Upton
It's the first thing a child will consider when putting together their bedroom, but adults tend to shy away from decorative themes. A theme can be a powerful unifying device, not to mention calming. In this Netherlands bedroom, the wall-covering, curtains and bedcover are all a classic toile de Jouy. The headboard is custom-made, and the side table is vintage.
Benvolio Toile Wallpaper, $1.46/sq ft, Brewster Home Fashions
20. THE RIGHT AMOUNT OF THROW PILLOWS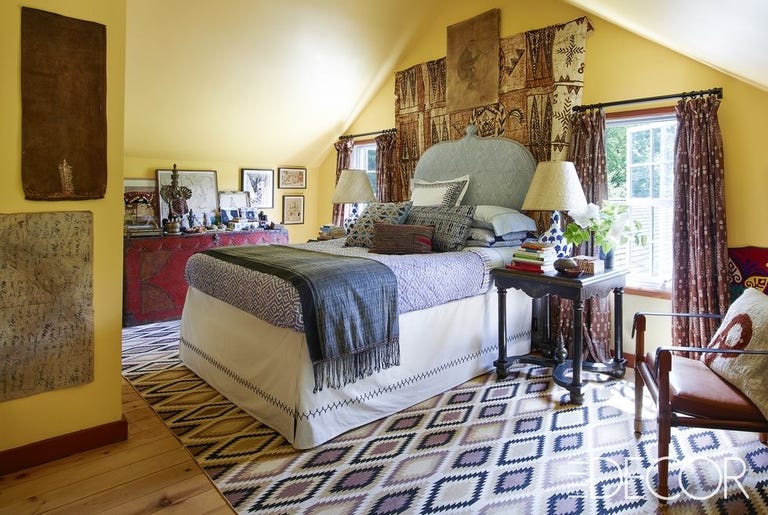 Richard Powers
How to figure out this number: It should be enough pillows so that your bed looks sumptuous and inviting when properly made, yet not so many that getting in bed requires 10 minutes of excavating. The sweet spot is usually between two to six, depending on the size of your bed. The bedroom of this Connecticut country home makes a solid argument for four being the perfect number!
Silk Dupioni Pillow, $48, Varanasi
21. A TECH-FREE ZONE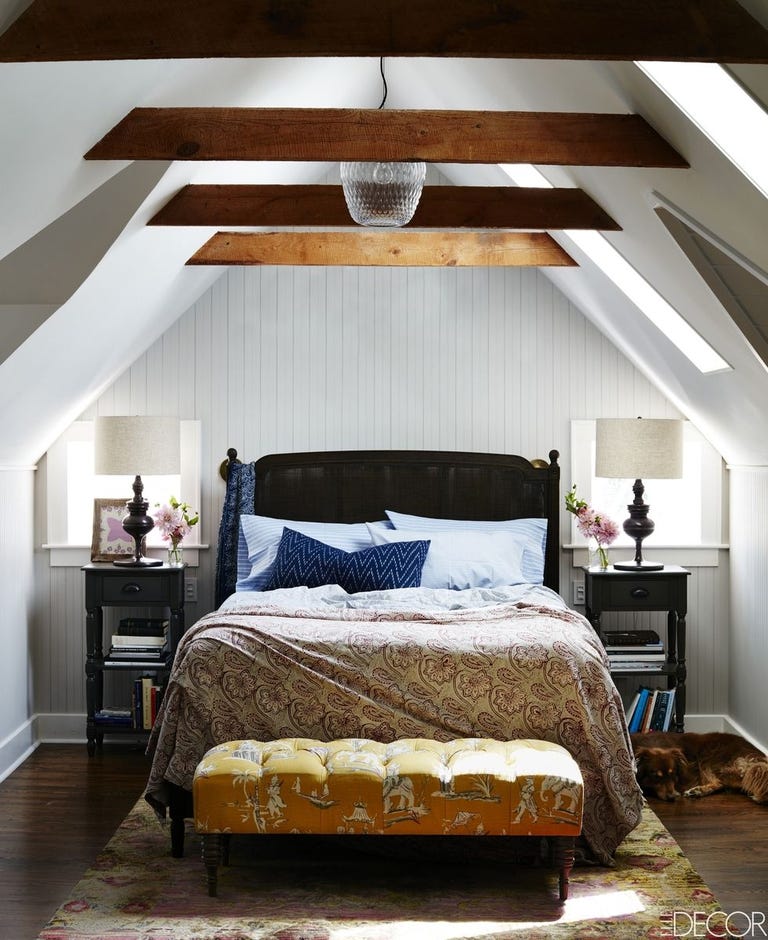 Stephen Kent Johnson
"The bedroom is about sleeping. What do you need when you're sleeping? Not a smartphone," says designer Aurélien Gallet. And that goes for a television as well. As a result, you'll get more restful sleep, plus more room for furniture and accessories you love. (This gorgeous bedroom in Amanda Seyfried's Catskills getaway is proof.)
Louis XVI Bed, from $1,995, Restoration Hardware
22. A SEATING AREA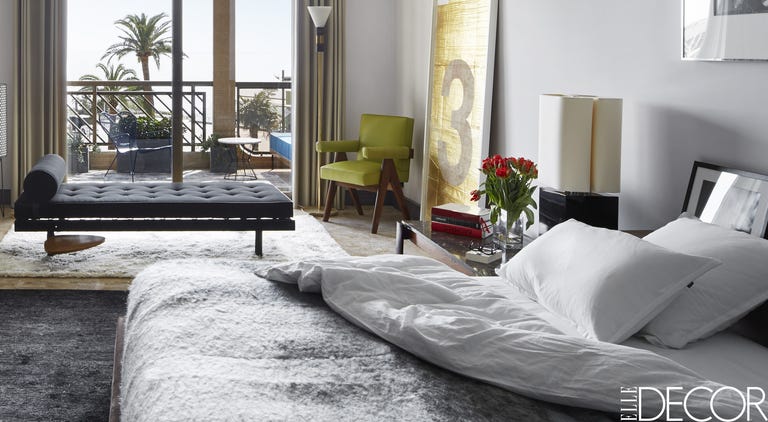 Francis Amiand
This room, designed by Emil Humbert and Christophe Poyet, has more than one area to unwind. A good spot to sit down will serve you well when you're reading or need to have a conversation with your partner. It's also great for putting on shoes or checking email so you can leave tech out of your bed.
Forest Green Kaylyn Bench With Bolsters, $349.99, World Market
23 A COLLECTION OF YOUR FAVORITE THINGS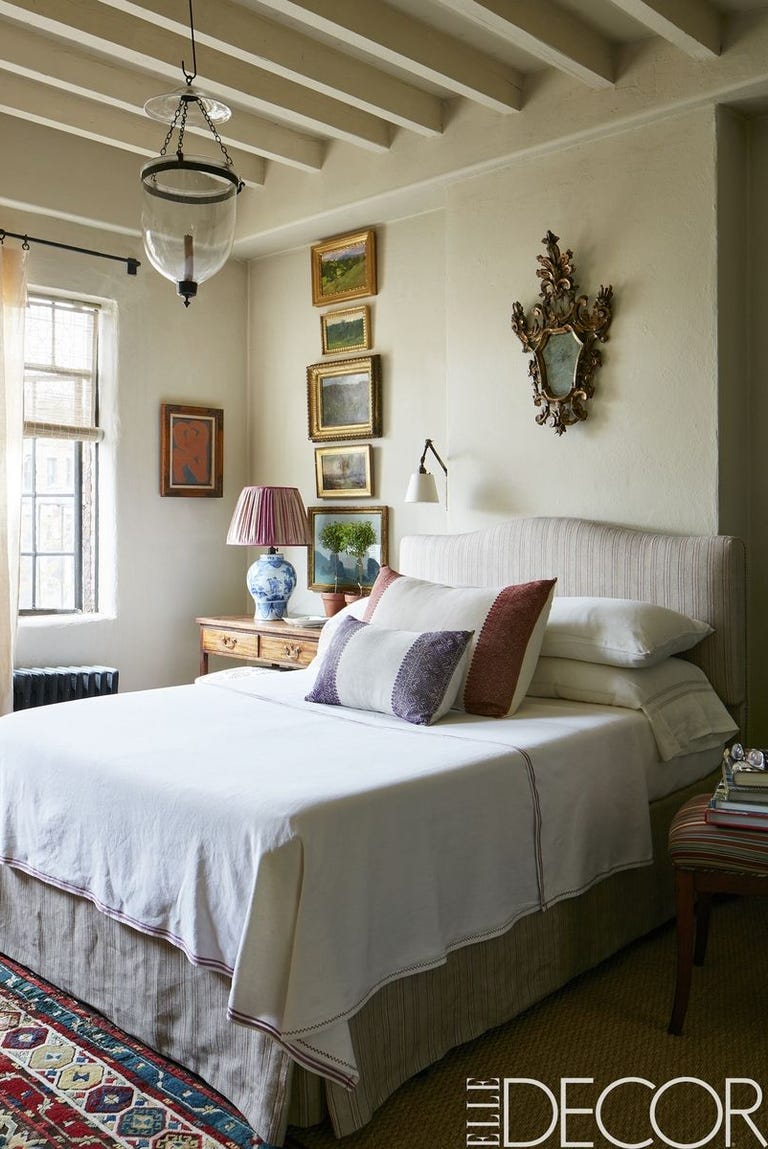 Stephen Kent Johnson
It doesn't have to be an entire étagère-full, but a cluster of pieces that make you smile will go a long way in making a bedroom feel just right, as with this bedroom in a Greenwich Village penthouse, featuring antique French linens, a 19th-century Indian lantern, and plenty of paintings collected over the years. Bonus: This is also a great way to incorporate pieces you've acquired over time but can't quite figure out where to put them.
Anglo-Indian Purple Bell Jar Lantern, $1,750, Chairish
24. A PERSONALIZED NIGHT STAND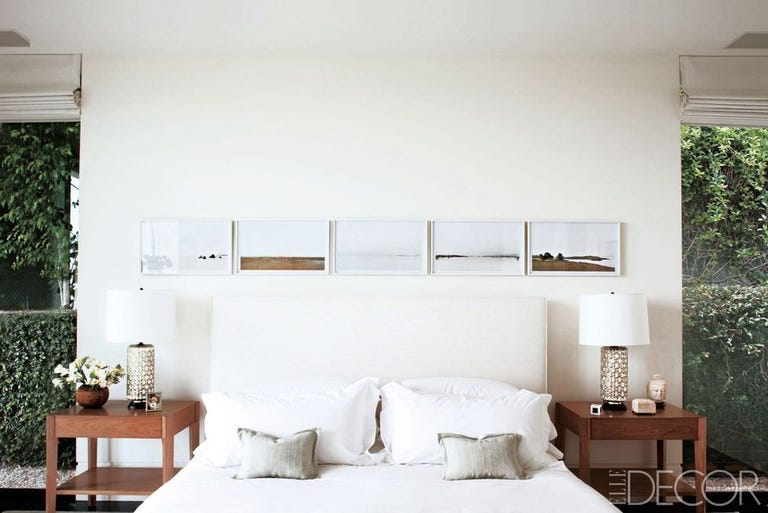 Miguel Flores-Vianna
Yes, a nightstand with all the necessities looks lovely, but it can also be a way to showcase your personality. The more idiosyncratic and "you" it feels, the better it will work and the more it will be a testament to your personal style. In Megan Mullally's room, her and husband Nick Offerman topped their Holly Hunt nightstands with vintage mercury-glass lamps and fresh flowers.
Leera Antique Mercury Glass Table Lamp Base, from $59, Pottery Barn
25. A GREAT MATTRESS
"You want a mattress that keeps you cool and gives you great lumbar support," says Ron Rudzin, CEO of Saatva Mattress. And of course, one that looks great in your room. Rudzin recommends choosing a mattress and foundation height based not just on your bed frame and headboard, but also the height of your night tables and window sills
Luxury Firm Queen 11.5", $999, Saatva
Article Courtesy: https://www.elledecor.com/design-decorate/room-ideas/tips/g596/10-things-bedroom-needs/ By AMY PREISER, SARA TARDIFF And DANIELLE FOX