Although 3D Printing has existed for over three decades, the endless potential of this printing technology is still being realized in the home décor and design world. As professional interior designers in Boston, MA, at Mark Luther Design, we try to take advantage of this technology whenever possible as it's relatively inexpensive and gives our designers the ability to create highly customizable products on demand while leaving plenty of room for experimentation and creativity along the way.
Read More
Here's how to brighten up in ways that go beyond painted cabinetry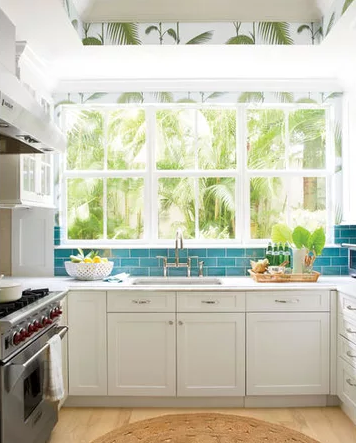 1 of 10 Photo by Max Kim-Bee; Design by Ashley Whittaker; Styling by Heather Chadduck Hillegas
Mix & Match
Pairing two classic coastal looks like turquoise subway tile and patterned palm leaf wallpaper brings a bit of the unexpected to the space while introducing a beach-inspired color combo that's foolproof in a coastal home.
Read More
Converting a room or space in your house to make it a reflection of who you are or redoing a room to serve a specific purpose is an exciting part of the home design process. However, before you jump all in and get the latest trends installed in your home, you should consider what is most appropriate for the long time value of your home.
Read More
As interior designers, it's essential for us to keep updated on the latest design trends and find fresh sources of creative inspiration while staying connected to other professionals.
Read More
Whether your style skews boho or modern, we have designer tips and tricks to quickly elevate your bedroom without tearing down walls or racking up a high bill. These pieces and ideas cover everything you need to create your most comfortable, luxurious and personal bedroom ever.
Read More
Whether it's splashing your walls in gallons of lime green paint or punching up an outdoor space with turquoise seat cushions, these island-inspired color tips will make you feel a lot closer to the tropics than you might actually be.
Read More
Mark Luther Design wishes you and your family a joyous Holiday Season and New Year full of happiness and prosperity!
Read More
While there are dozens of television shows out there showing how you can easily carry out a home project, most projects that can be done by a homeowner require a bit of knowledge as well as the necessary time and effort.
Read More
Too many people watch DIY TV shows and feel that they have the know-how to design the interior of their homes. Many clients see and purchase furniture and once it gets delivered they discover it is too big and consumes the room. For instance, the bedroom set is a classic example. The set is purchased and the headboard ends up in front of the window because it wasn't thought-out and looked great in the furniture store. Furniture scale and color are the keys to successful interior design!
Read More
Read More