«&laquo&nbspBACK
10 Unexpected Ways to Bring Color Into Your Kitchen
Here's how to brighten up in ways that go beyond painted cabinetry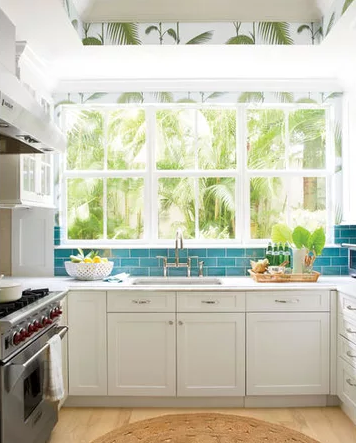 1 of 10 Photo by Max Kim-Bee; Design by Ashley Whittaker; Styling by Heather Chadduck Hillegas
Mix & Match
Pairing two classic coastal looks like turquoise subway tile and patterned palm leaf wallpaper brings a bit of the unexpected to the space while introducing a beach-inspired color combo that's foolproof in a coastal home.
2 of 10 Photo by David A. Land; Design by Jody Beck and Lora Kennedy; Styling by Jerrie-Joy
Color Coordinate
Offset neutral walls and cabinetry with pops of color that tie the room together. Here, homeowner Lora Kennedy matched the Blue Star range to the pendant lights to create a fun, refreshing vibe.
3 of 10 Photo by Hector Manuel Sanchez; Design by Mary McGee; Styling by Lindsey Ellis Beatty
Play with Pattern
If you don't want all-over color, choose a neutral-background wallpaper with lots of negative space. The flamingos shown here match the cheery-hued chairs for a spirited look that doesn't overwhelm.
4 of 10 Photo by Jessica Klewicki Glynn; Design by Lindsey Herod; Styling by Liz Strong
Monochrome Model
Have a shade you absolutely love? Go all in—coat not just the cabinetry, but also the backsplash and moulding with the same color for a bold look. A softer shade, like the light green used here, and white countertops keeps the kitchen from feeling overly dramatic.
5 of 10 Photo by Annie Schlechter; Design by Amanda Lindroth; Styling by Elizabeth Beeler
Background Blues
For a dynamic take on a classic style, leave the outer edges of your cabinetry or shelving neutral, and paint the backboard instead. Favorite dishware and other kitchen necessities will instantly pop against the colorful canvas.
6 of 10 Photo by David A. Land; Styling by Liz Strong
Happy Hue
Looking for a quick and easy way to brighten up your kitchen? Paint the door—or its frame–a cheery shade for a pop of color that can easily be changed.
7 of 10 Tria Giovan
Statement Ceiling
Painting or wallpapering your ceiling can be a daring move, but sticking with a classic pattern like gingham keeps the colorful twist just daring enough to surprise but not to overpower.
8 of 10 J. Savage Gibson
Floor Show
Work from the ground up by painting the floor a happy shade, like the lush green shown here, and then choosing accessories that match—rugs, artwork, and even drinking glasses. The orange door frame complements the green perfectly.
9 of 10 Deborah Whitlaw Llewellyn
Tickled Pink
You might not immediately think pink when decking out your kitchen. But here, the sweet shade adds just the right amount of romance with pretty pastel appliances. The sky blue storage cabinet in the neighboring dining room is the perfect complement.
10 of 10 Photo by Jonny Valiant; Design by Carleton Varney; Styling by Erin Swift
Make a Statement
Pick a bold color combination to contrast surrounding neutral cabinetry. The lush, leafy wallpaper complements the rich orange seat cushions, and the softer ceiling color offsets the deeper tones for a palette the really wows.
Article Courtesy: https://www.coastalliving.com/homes/decorating/surprising-ways-to-add-color-kitchen#monochrome-model By Taylor Eisenhauer